Modern-Traditional Audio Visual Art Performance and Training Center Design With Expressionism Architechture Concept in Umbulharjo District, Yogyakarta
Betaviane Indah Putri

Universitas Budi Luhur

Putri Suryandari

Sri Kurniasih

Universitas Budi Luhur
Abstract
The Design of Modern-Traditional Audio-Visual Art Performance and Training Center With the Concept of Expressionism Architecture is a building with its main function as a means of entertainment to facilitate audio-visual arts performances specifically dance art, drama and opera as well as educational facilities for art performers to practice the audio visual arts. Art is a communication media for human based on experience, feelings and has a beauty that is expressed through a creation. This underlies the reason for applying the architectural concept of expressionism which has the nature of freedom of expression based on the expression of feelings of the heart.
Located in the city of Yogyakarta, which is known as the city of students and the city of the arts, it is expected that it will be a means to preserve audio-visual arts, both modern and traditional, and be able to respond to the need for large number of performance facilities for both art performers and the wider community.
Keywords: Performance and Training Center, Art, Expressionism Architecture, Yogyakarta.
References
[1] Ilham Prasetya, "Pengertian Dan Fungsi Seni Beserta Menurut Para Ahli," Ayoksinau.Com, last modified 2021, accessed February 18, 2021, https://www.ayoksinau.com/pengertian-seni/.
[2]Arum Sutrisni Putri, "Pergelaran Tari: Pengertian, Maksud Dan Tujuan," Kompas.Com, last modified 2020, accessed February 8, 2021, https://www.kompas.com/skola/read/2020/02/19/163000969/pergelaran-tari-pengertian-maksud-dan-tujuan?page=all.
[3] Sakul Monica D and Deddy Erdiono, "Implementasi Aliran Seni Ekspresionisme Dalam Karya Arsitektur," Media Matrasain 9, no. 2 (2012): 76.
[4] Rulita, "Pengertian Seni Pertunjukan Menurut Para Ahli," Ilmuseni.Com, last modified 2017, accessed March 23, 2021, https://ilmuseni.com/seni-pertunjukan/pengertian-seni-pertunjukan-menurut-para-ahli.
[5] Vovo Vito Brata, "Pendidikan Masa Kini-Seni Budaya," Kompasiana, last modified 2014, accessed March 24, 2021, https://www.kompasiana.com/vovo/54f5fa8fa3331184118b4659/pendidikan-masa-kini-seni-budaya.
[6] Janny Mudeng, "Penerapan Prinsip-Prinsip Seni Ekspresionisme Dalam Rancangan Arsitektur" (1392): 34, http://marefateadyan.nashriyat.ir/node/150.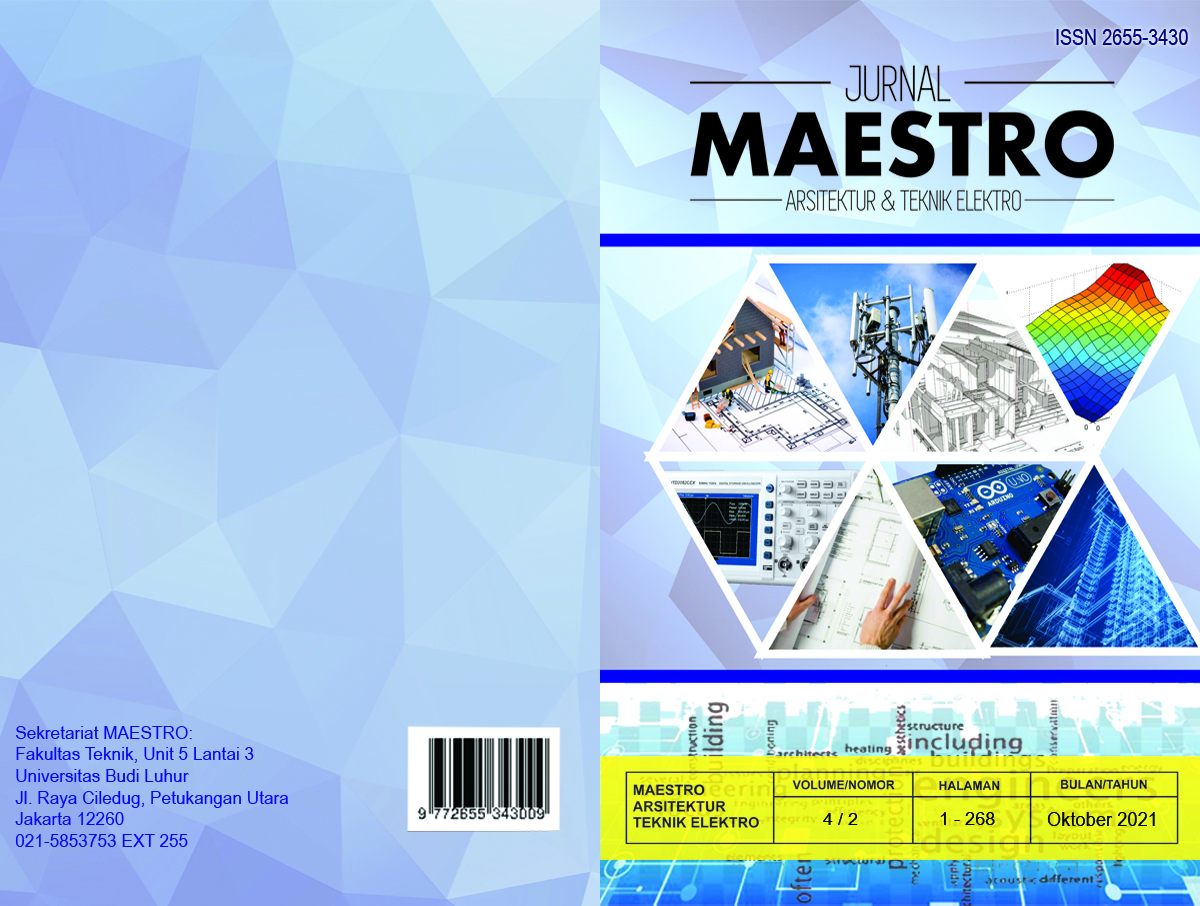 How to Cite
PUTRI, Betaviane Indah; SURYANDARI, Putri; KURNIASIH, Sri. Modern-Traditional Audio Visual Art Performance and Training Center Design With Expressionism Architechture Concept in Umbulharjo District, Yogyakarta.
MAESTRO
, [S.l.], v. 4, n. 2, p. 67 - 76, oct. 2021. ISSN 2655-3430. Available at: <
https://jom.ft.budiluhur.ac.id/index.php/maestro/article/view/507
>. Date accessed: 21 may 2022.
This work is licensed under a Creative Commons Attribution-NonCommercial 4.0 International License.