APPLICATION OF METAPHOR ARCHITECTURE IN THE DESIGN OF A MUSLIM FASHION CENTER IN SOUTH JAKARTA
Ananda Amelia Putri

Universitas Budi Luhur

Ananda Amelia Putri

Universitas Budi Luhur

Tri Endangsih
Abstract
The development of the era affects the development of fashion from time to time. Fashion is synonymous with a person's lifestyle, because fashion is a style that refers to a way of dressing that is trending or popular in society. The development of Muslim fashion is currently growing very rapidly, it can be seen from the increasing number of Muslim women who wear the hijab. Nowadays hijab is increasingly recognized and loved by various age groups, this is what makes Muslim fashion continue to grow.
South Jakarta has the potential as a business center, especially in the fashion sector. The Muslim Fashion Center is designed as a place for work, entertainment, and shopping for designers and Muslim fashion enthusiasts to express their creativity and increase knowledge about the Muslim fashion world. In this design using Metaphoric Architecture, to create a harmonious and attractive building that makes the building more expressive and characterized by the function of the building as a Muslim Fashion Center.
References
[1] M. Y. Bakhtiar, "Sekolah Mode ( Fashion ) di Semarang dengan Pendekatan Desain Arsitektur Feminisme," Univ. Negeri Semarang, 2017.
[2] Jagad.id, "Pengertian Fashion : Stylist, Secara Umum dan Menurut Para Ahli," Jagad.id, 2020. https://jagad.id/pengertian-fashion-stylist-secara-umum-dan-menurut-para-ahli/ (accessed Mar. 23, 2021).
[3] W. Cantika and P. Kurnia, "Islamic Fashion College Di Manado ( Kongruensi Islamic Fashion Metaphoric Dalam Rancangan Arsitektur )," 2020.
[4] Anonymous, "Arsitektur Metafora," arsitekturmetafora.blogspot.com, 2016. http://arsitekturmetafora.blogspot.com/ (accessed Mar. 26, 2021).
[5] R. Hayaturrahmah, "AZAS DAN METODE PERANCANGAN ARSITEKTUR," 123dok.com, 2013. https://123dok.com/document/lzgn527y-azas-dan-metode-perancangan-arsitektur.html (accessed Apr. 02, 2021).
[6] Arsitur Studio, "Arsitektur Metafora : Pengertian, Prinsip, Tokoh dan Karyanya," arsitur.com, 2020. https://www.arsitur.com/2018/09/arsitektur-metafora-lengkap.html (accessed Apr. 03, 2021).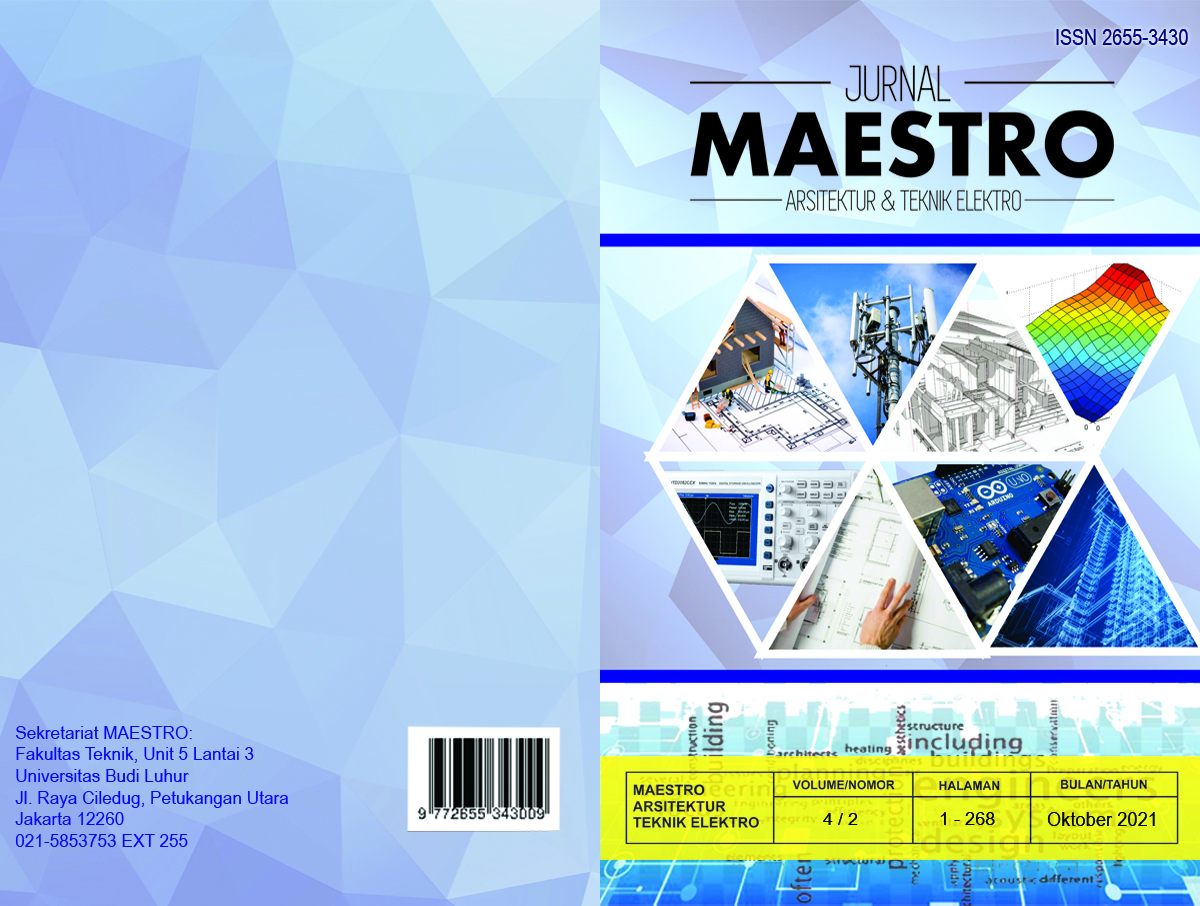 How to Cite
PUTRI, Ananda Amelia; PUTRI, Ananda Amelia; ENDANGSIH, Tri. APPLICATION OF METAPHOR ARCHITECTURE IN THE DESIGN OF A MUSLIM FASHION CENTER IN SOUTH JAKARTA.
MAESTRO
, [S.l.], v. 4, n. 2, p. 12 - 19, oct. 2021. ISSN 2655-3430. Available at: <
https://jom.ft.budiluhur.ac.id/index.php/maestro/article/view/503
>. Date accessed: 21 may 2022.
This work is licensed under a Creative Commons Attribution-NonCommercial 4.0 International License.