APPLICATION OF CONTEMPORARY ARCHITECTURE IN THE DESIGN OF ISLAMIC CENTER IN THE CITY OF SOLO
Rosyid Amirul Ardli

Universitas Budi Luhur

Anggraeni Dyah Sulistiowati

Putri Suryandari

Universitas Budi Luhur
Abstract
Islamic Center has the meaning of a physical container that accommodates several Islamic activities and supports. Among these activities consist of worship activities, mu'amalah and da'wah. The Islamic Center also has a role as a center for Islamic information both for Muslims and for people who want to know and want to learn about Islam.
Therefore, with the design of an Islamic Center Area, it is hoped that it can accommodate community activities in the fields of religious education, economics and sports and can respond to the need for open space in the city of Solo. The Islamic Center area applies the concept of Contemporary Architecture as an effective form of approach to the surrounding community, especially for teenagers.
Keywords: Islam, Center for Religious Activities, Religious Tourism, Solo.
References
Uswatun Hasanah, "Wali Kota Surakarta Tinjau Lahan Pembangunan Islamic Center Solo," surakarta.go.id, 2021. https://surakarta.go.id/?p=18638.
[2] Manfred Ziemek, Pesantren dalam Perubahan Sosial. Jakarta: Perhimpunan Pengembangan Pesantren dan Masyarakat, 1986.
[3] Rupmoroto, "Seminar Arsitektur, Islamic Art Park," 1981.
[4] Lukman Harun, Potret Dunia Islam. Jakarta: Pustaka Panji mas, 1985.
[5] D. J. B. M. (DITJEN B. I. Departemen Agama, Petunjuk pelaksanaan proyek Islamic Center di seluruh Indonesia. 1976.
[6] simas.kemenag.go.id, "Keputusan Direktur Jenderal Bimbingan Masyarakat Islam Nomor DJ.II/802 Tahun 2014 Tentang Standar Pembinaan Manajemen Masjid," 2004, [Online]. Available: https://simas.kemenag.go.id/uploads/file_download/81018df3fb3c99fa52a1f144acca2ea5.pdf.
[7] Ahmad Bustomi, "LANDASAN KONSEPTUAL PERENCANAAN DAN PERANCANGAN PONDOK PESANTREN PENGHAFAL AL-QURAN PADA ISLAMIC CENTER BIN BAZDI BANTUL," 2015, [Online]. Available: http://e-journal.uajy.ac.id/8467/.
[8] Seyyed Hossein Nasr, Art of Islam Language and Meaning Titus Burckhardt, Edisi peri. Jean-Louis Michon.
[9] Wikipedia, "Kota Surakarta." https://id.wikipedia.org/wiki/Kota_Surakarta (accessed Apr. 14, 2021). https://islamiccenter.ntbprov.go.id/sejarah/
[10] Mangun Wijaya YB, Wastu Citra. Gramedia Pustaka Utama, 1988.
[11] Anggi Warsito, "19 Pengertian Arsitektur Menurut Para Ahli," ilmuseni.com, 2017. https://ilmuseni.com/seni-rupa/arsitektur/pengertian-arsitektur-menurut-para-ahli (accessed Apr. 14, 2021).
[12] Ludwig Hilberseimer, Contemporary Architecture Its Roots and Trends. Theobald, 1964.
[13] Rumah.com, "Mengenal Lebih Dalam Desain Arsitek Kontemporer dan Ciri-Cirinya," 2019. https://www.rumah.com/panduan-properti/mari-mengenal-arsitektur-kontemporer-13990 (accessed Apr. 14, 2021).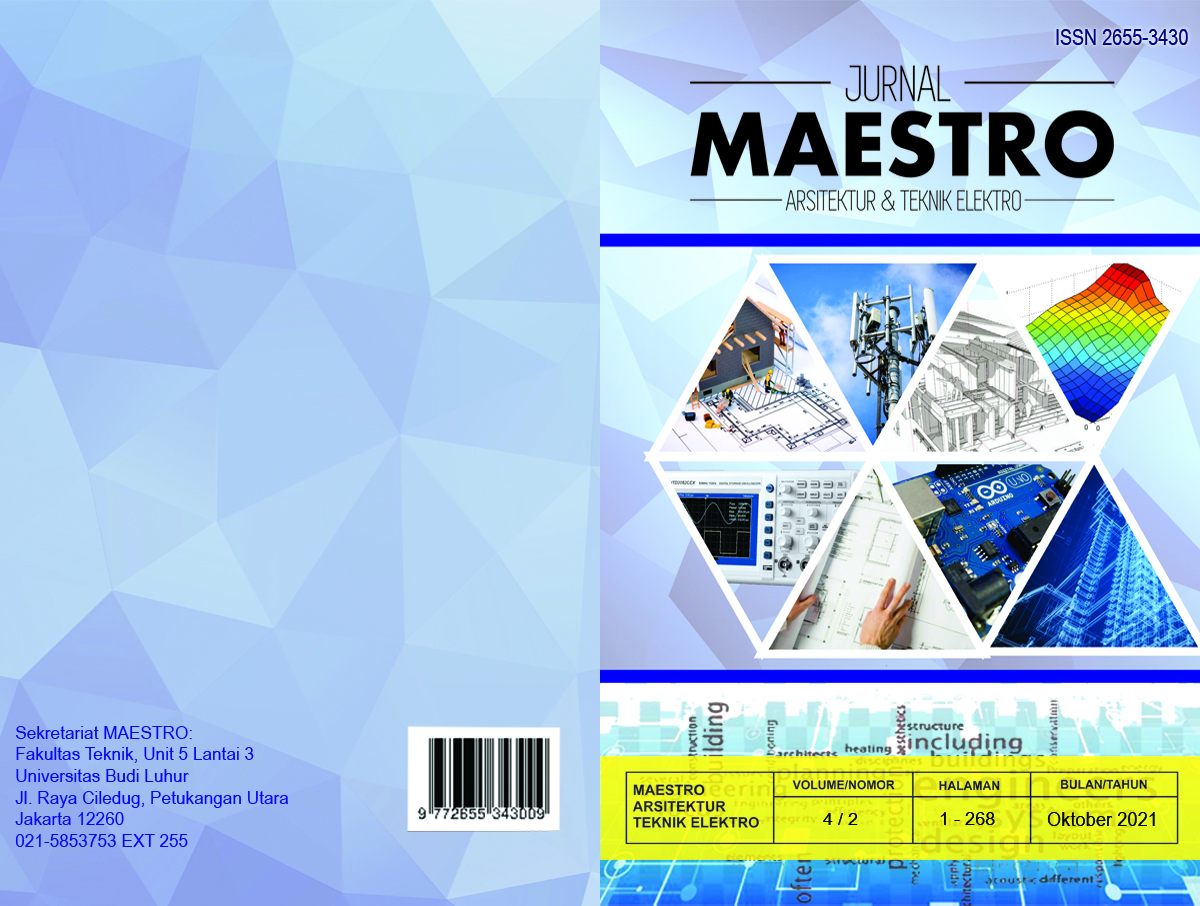 How to Cite
ARDLI, Rosyid Amirul; SULISTIOWATI, Anggraeni Dyah; SURYANDARI, Putri. APPLICATION OF CONTEMPORARY ARCHITECTURE IN THE DESIGN OF ISLAMIC CENTER IN THE CITY OF SOLO.
MAESTRO
, [S.l.], v. 4, n. 2, p. 193 - 200, oct. 2021. ISSN 2655-3430. Available at: <
https://jom.ft.budiluhur.ac.id/index.php/maestro/article/view/489
>. Date accessed: 21 may 2022.
This work is licensed under a Creative Commons Attribution-NonCommercial 4.0 International License.