APPLICATION OF BIOPHILIC ARCHITECHTURE ON REDEVELOPMENT SPORT FACILITIES AT BALAI JAGONG CITY PARK KUDUS, CENTRAL JAVA
Asraful Anam

Universitas Budi Luhur

Dody Kurniawan

Universitas Budi Luhur

Sri Kurniasih

Universitas Budi Luhur
Abstract
A city park as green space is the park to serve the town or part of urban areas, furnished with recreational facilities and sports facilities with a minimum of green open space 80 % -90 %, so it can be utilized by the citizen to performs various functions. Kudus city having a Balai Jagong as the city park, has the largest land area with 6 Ha that containing the sports facilities like;  indoor tennis, indoor futsal bmx & skate arena and public facilities to support the needs of park visitors, has become one of recreational destinations for the society of Kudus city. However, with great potential the management of the park facilities it is still not maximum,  so that the facility a building often closed and abandoned look, from the observation that the author do have found, completeness facilities Balai Jagong park as the city parks do not meet standards set of Permen no.5, 2008 and standards the park facilities by the central city of research and development national standardization board. So there will be a redevelopment of the Balai jagong park facilities by applying the concept of biophilic architecture. Biophilic Architecture is a style of architecture that containing 14 of biophilia design principle in it, that would've connecting people with nature through the building design and aim to help a people reaching a welfare , health , comfort and to improve the quality of life for the people.
References
] PUPR, "Permen PU No. 5 Tahun 2008," BMC Public Health, vol. 5, no. 1, pp. 1–8, 2008, [Online]. Available: https://ejournal.poltektegal.ac.id/index.php/siklus/article/view/298%0Ahttp://repositorio.unan.edu.ni/2986/1/5624.pdf%0Ahttp://dx.doi.org/10.1016/j.jana.2015.10.005%0Ahttp://www.biomedcentral.com/1471-2458/12/58%0Ahttp://ovidsp.ovid.com/ovidweb.cgi?T=JS&P.
[2] OKEZONE, "Kudus Perbanyak Jumlah Taman Kota," OKEZONE.COM, 2016. https://economy.okezone.com/read/2016/08/08/470/1457857/kudus-perbanyak-jumlah-taman-kota (accessed Feb. 07, 2021).
[3] ARnastiti, "BAB II ANALISIS DAN SINTESIS VARIABEL DESAIN," DOCPLAYER.INFO, 2018, doi: 10.1088/1751-8113/44/8/085201.
[4] E. Yosep and T. Setiawan, "Redevelopment Pasar Kembang Cikini Dengan Konsep Open Architecture Sebagai Ruang Ketiga Daerah Cikini, Menteng," J. Sains, Teknol. Urban, Perancangan, Arsit., vol. 2, no. 1, p. 73, 2020, doi: 10.24912/stupa.v2i1.6856.
[5] A. Wibowo and M. Ritonga, "Kebutuhan Pengembangan Standar Nasional Indonesia Fasilitas Taman Kota," J. Stand., vol. 18, no. 3, p. 161, 2018, doi: 10.31153/js.v18i3.234.
[6] I. Ketersediaan, D. A. N. Kebutuhan, R. Terbuka, and H. Di, "Identifikasi ketersediaan dan kebutuhan ruang terbuka hijau di kecamatan kota kudus," vol. 18, no. 1, pp. 53–58, 2021.
[7] TUMANGGOR, "Redeveloment," portaluniversity.ac.id, 2019, doi: 10.1088/1751-8113/44/8/085201.
[8] B. Santosa, A. S. Aribowo, and F. Nichito, "Bangunan Berbasis Web Di Kantor Dinas Cipta Karya , Tata Ruang Dan Perumahan Kota Pontianak," Telematika, vol. Vol. 10, N, pp. 153 – 160, 2014.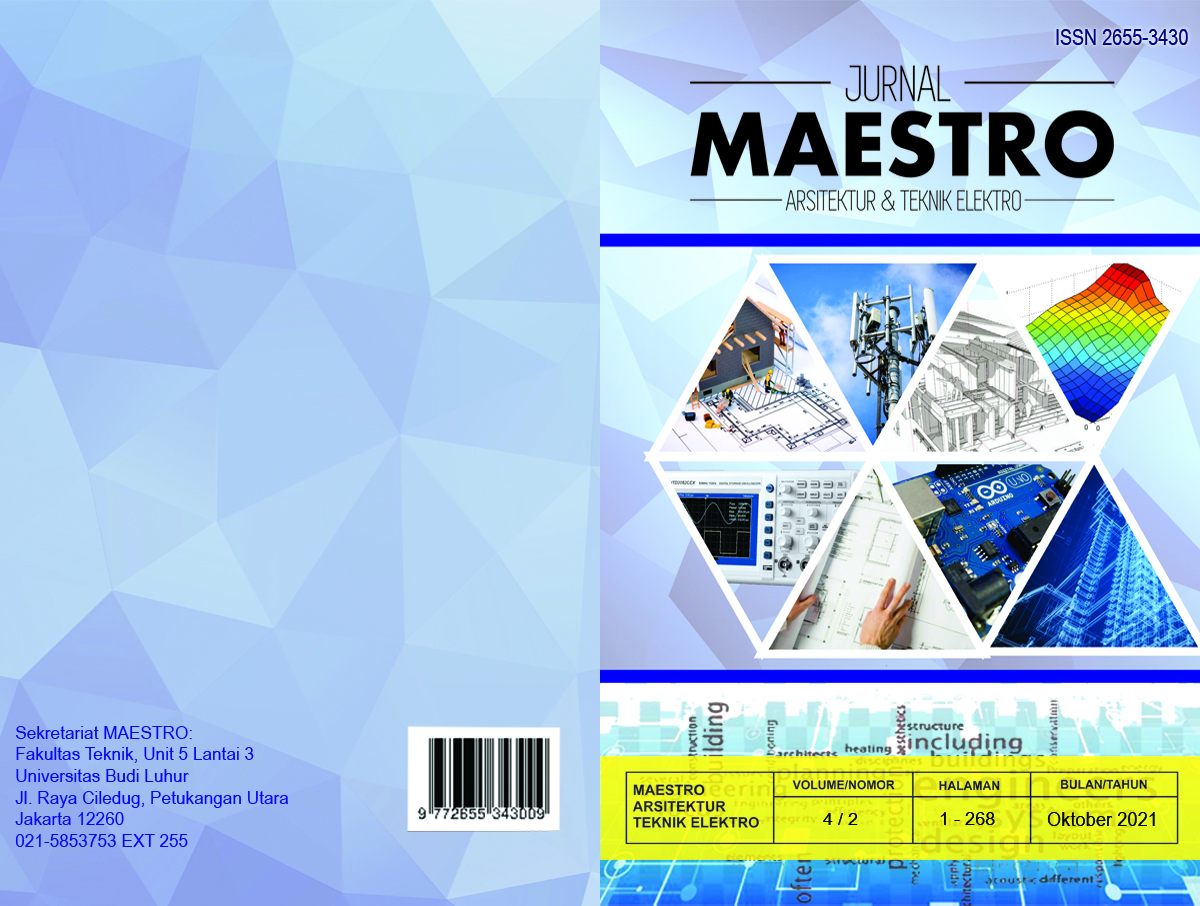 How to Cite
ANAM, Asraful; KURNIAWAN, Dody; KURNIASIH, Sri. APPLICATION OF BIOPHILIC ARCHITECHTURE ON REDEVELOPMENT SPORT FACILITIES AT BALAI JAGONG CITY PARK KUDUS, CENTRAL JAVA.
MAESTRO
, [S.l.], v. 4, n. 2, p. 36 - 49, oct. 2021. ISSN 2655-3430. Available at: <
https://jom.ft.budiluhur.ac.id/index.php/maestro/article/view/487
>. Date accessed: 21 may 2022.
This work is licensed under a Creative Commons Attribution-NonCommercial 4.0 International License.