DESIGN OF TEXTILE WHOLESALE CENTER WITH THE APPLICATION OF MODERN ARCHITECTURE IN PAMULANG TANGERANG SELATAN
Dicky Kurniawan

Program studi arsitektur fakultas teknik

Sri Kurnasih

Universitas Budi Luhur

Tri Endangsih

Universitas Budi Luhur
Abstract
Textile Wholesale Center is the center is the subject of various matters or the main part which is the place of activity. So the center means a point/base for the occurrence of various activities where there is one activity that is the most dominant and has the potential in that activity. Because there is no Wholesale Center in South Tangerang as a Shopping Center in Pamulang, this is the reason for the South Tangerang City Bappeda to plan to build a shopping center to meet the needs of the Pamulang community and the surrounding area.
With the existence of large-scale shopping centers, people's tastes about the value of life change from objects to pleasure. Consumers demand that they can shop with their families in a friendly and family atmosphere and allow them to socialize, have fun, have fun inside the building. To answer this need, it is necessary to include recreational elements and in structuring the trade area so that it can give a new color to the existing shopping and shopping centers. The design concept at this wholesale center wants to use modern designs because it adapts to the surrounding environment that uses modern architectural designs besides that modern designs can be used long term.
References
[1].Pengertian Pusat Grosir https://id.wikipedia.org/wiki/Grosir,
[2].https://kamus.tokopedia.com/g/grosir/#:~:text=Grosir%20atau%20mendistribusikan%20diartikan%20sebagai,siapa%20saja%20selain%20konsumen%20biasa,
[3].https://e-sakip.tangerangselatankota.go.id/assets/file/renstra/21-RENSTRA.pdf,
[4].https://www.google.com/url?sa=i&url=https%3A%2F%2Fejournal.gunadarma.ac.id%2Findex.php%2Fdekons%2Farticle%2Fview%2F1135%2F995&psig=AOvVaw1e2P8e4Q3M421zrfsGLOji&ust=1618741844121000&source=images&cd=vfe&ved=0CAMQjB1qFwoTCLijtriJhfACFQAAAAAdAAAAABAD,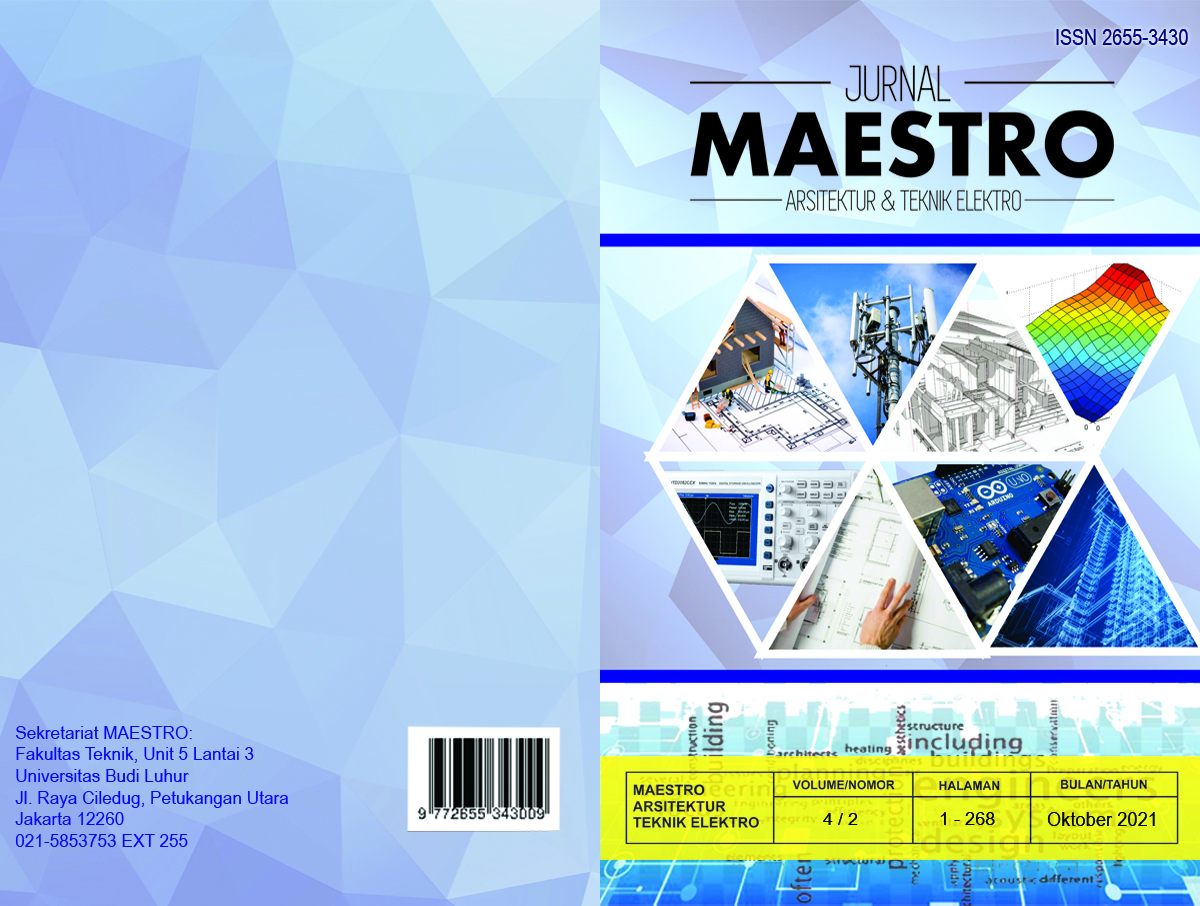 How to Cite
KURNIAWAN, Dicky; KURNASIH, Sri; ENDANGSIH, Tri. DESIGN OF TEXTILE WHOLESALE CENTER WITH THE APPLICATION OF MODERN ARCHITECTURE IN PAMULANG TANGERANG SELATAN.
MAESTRO
, [S.l.], v. 4, n. 2, p. 93 - 100, oct. 2021. ISSN 2655-3430. Available at: <
https://jom.ft.budiluhur.ac.id/index.php/maestro/article/view/482
>. Date accessed: 21 may 2022.
This work is licensed under a Creative Commons Attribution-NonCommercial 4.0 International License.