DESIGN OF E-SPORT ARENA BUILDING IN SLEMAN DISTRICT WITH THE APPLICATION OF FUTURISTIC ARCHITECTURE
Wiguna Nanda Jayanto

Universitas Budi Luhur

Dody Kurniawan

Universitas Budi Luhur

Anggraeni Dyah Sulistiowati

Universitas Budi Luhur
Abstract
Gedung E-Sports Arena adalah tempat untuk mewadahai kegiatan turnamen e-sports dan pengembangan industri e-sports di tingkat nasional. Kabupaten Sleman, Daerah Istimewa Yogyakarta menjadi sasaran pembuatan gedung e-sports arena dengan ditujukan kepada masyarakat umum dan kepada atlet profesional maupun semi profesional. Dengan adanya Gedung E-Sport arena yang sebelumnya belum ada sebagai tempat yang mewadahi kegiatan sekaligus dengan pengembangan e-sports di Indonesia. Gedung E-Sports Arena diharapkan dapat mewadahi kegiatan e-sports dan pengembangan industri e-sports di Indonesia dengan fasilitas yang telah di sediakan dalam satu tempat. Arsitektur Futuristik yang diterapkan dalam bangunan ini dengan diterapkan pada material dan juga pada bentuk bangunan dengan menekankan pada bagian kenyamanan dan keindahan bangunan.
References
[1] "e Sport Indonesia: Sejarah, Daftar Atlet dan Info Kompetisi Terbaru - Tokopedia Blog."https://www.tokopedia.com/blog/gamee-sport-indonesia/ (accessed Mar. 28,2021).
[2] "IESPA Proyeksikan Industri eSport Makin Kuat - Sport Bisnis.com."https://sport.bisnis.com/read/20200618/402/1254457/iespa-proyeksikanindustri-esport-makin-kuat (accessedMar. 28, 2021).
[3] "Cabang Esports SEA Games 2019:Rangkuman Perjuangan Indonesia Sejauh Ini | Hybrid."https://hybrid.co.id/post/indonesia-dicabang-esports-sea-ames-2019 (accessed Mar. 28, 2021).
[4] "Esports ID | The International 8: Rekor, Penonton Indonesia, dan Panggung Hiburan."https://esports.id/dota2/news/2018/08/0771fc6f0f4b1d7d1bb73bbbe14e0e31/the-international-8-rekor-penonton-indonesia-danpanggung-hiburan (accessed Apr. 06,2021).
[5] "Kenapa Menonton Turnamen Esports Gratis? Perlukah Tiket Berbayar? |Hybrid."https://hybrid.co.id/post/turnamenesports-gratis (accessed Apr. 06, 2021).
[6] "Pemerintah Kabupaten Sleman »Prestasi."http://www.slemankab.go.id/category/prestasi (accessed Apr. 11, 2021).
[7] F. Fauzi and W. Aqli, "Kajian Konsep Arsitektur Futuristik Pada BangunanKantor," J. Archit. Des. Dev., vol. 1, no.2, p. 165, 2020, doi:10.37253/jad.v1i2.1387.
[8] "Langgam Arsitektur Modern Futuristik."https://www.arsitur.com/2015/10/langgam-arsitektur-modern-futuristik.html (accessed Mar. 28, 2021)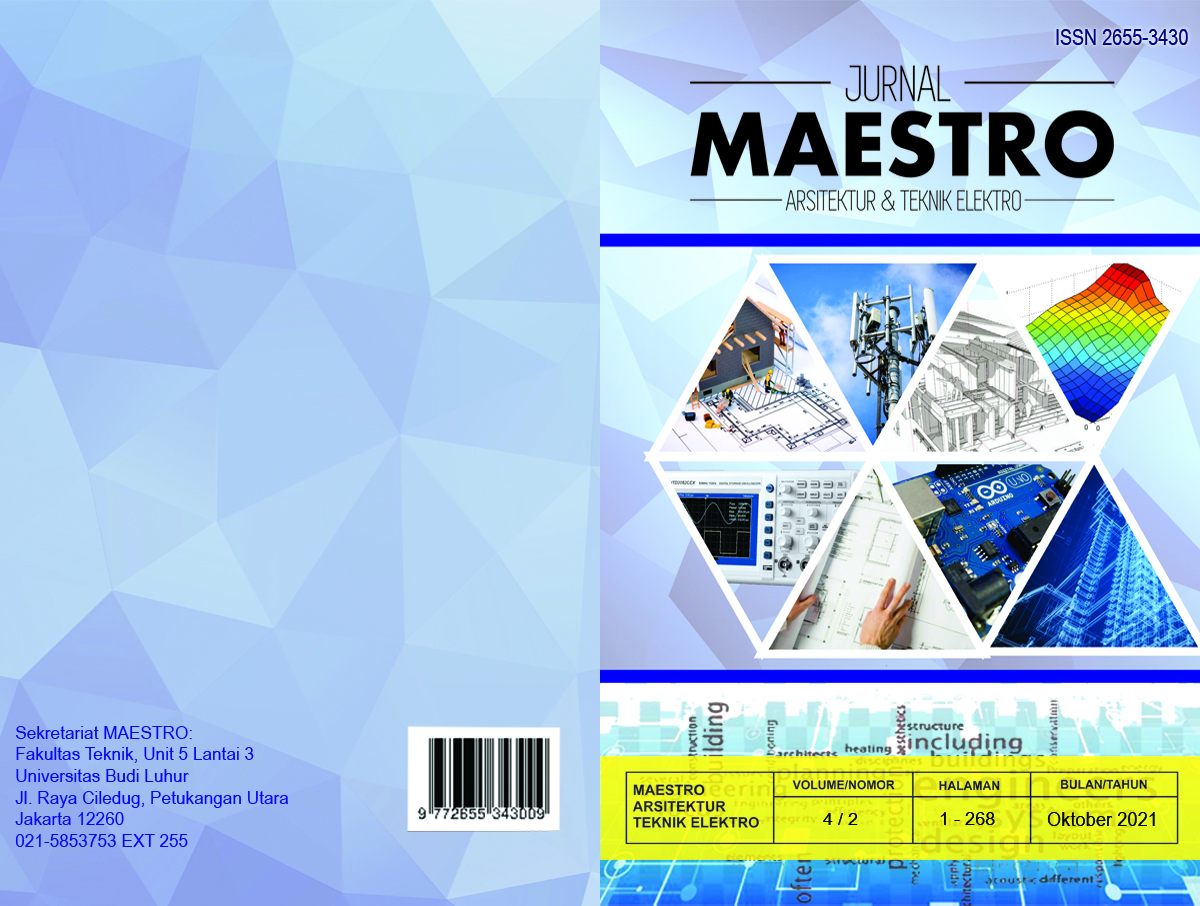 How to Cite
JAYANTO, Wiguna Nanda; KURNIAWAN, Dody; SULISTIOWATI, Anggraeni Dyah. DESIGN OF E-SPORT ARENA BUILDING IN SLEMAN DISTRICT WITH THE APPLICATION OF FUTURISTIC ARCHITECTURE.
MAESTRO
, [S.l.], v. 4, n. 2, p. 210 - 222, oct. 2021. ISSN 2655-3430. Available at: <
https://jom.ft.budiluhur.ac.id/index.php/maestro/article/view/467
>. Date accessed: 21 may 2022.
This work is licensed under a Creative Commons Attribution-NonCommercial 4.0 International License.